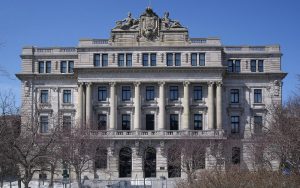 Wikimedia Canada
535 Viger Avenue East
Montreal (Quebec) H2L 2P3
CANADA

---
Disclaimer
Wikimedia Canada does not host nor edit Wikipedia nor any of the other projects of the Wikimedia Foundation. Our association has no control over these sites and does not intervene in their content.
Please do not contact us if you have a particular problem with Wikipedia articles (factual errors, defamation, etc.). Not being in a position to resolve such problems, we would refer you to the Wikipedia project contact page.
We are neither a subsidiary nor the legal representative of Wikipedia's host, the Wikimedia Foundation. We are not authorized to process its mail. The only postal address to communicate with the Wikimedia Foundation is :
Wikimedia Foundation Inc.
149 New Montgomery Street, 3rd Floor
San Francisco, CA 94105
États-Unis