Nathalie Thibault describes her experience at the WikiConvention in Paris
Why not us?
Wikimedia projects provide networking opportunities for the GLAM movement initiated around the world in a desire for interoperability and sharing of information that is often siloed in databases, websites, etc. In my case, it was the partnership in 2014, Wikimedia Canada and Bibliothèque et Archives nationales Québec (in French) that sparked my curiosity and interest in such projects. This experience, I believe, has promoted and strengthened the credibility of Wiki projects in Quebec. A major player in the documentary heritage field was getting into Wikipedia, why not us!
The Musée national des beaux-arts du Québec (MNBAQ) had wanted to contribute to Wikipedia in French for several years by combining a citizen approach. It is important that the citizen can, by consulting reliable and published sources, contribute directly to the content on our collections site and on Wikipedia if they wish. The same concern that the Museum staff interested in Wikipedia can learn more about the operation. The arrival of the Quebec Digital Cultural Plan has also fostered a Wikidata project, exploring data at the Museum. In addition, since July 2018, I have a specific mandate and I devote several hours weekly as a wikimedian in residence.
Also, from January to May 2019, we organized with the collaboration of Wikimedia Canada and different partners (BAnQ, Art&Feminism, etc.) workshops for the public. This democratization towards the outside world has allowed us to introduce curious people to the encyclopedia and also to interest museum institutions in Quebec and Canada in our Wiki projects. In the last few years, our involvement in the #1lib1ref campaigns have been opportunities to improve the references of many articles and Wikidata data. Let's not forget that the Museum has a library, a documentation center and private archives. This is in itself a small GLAM with a lot of potential.
An opportunity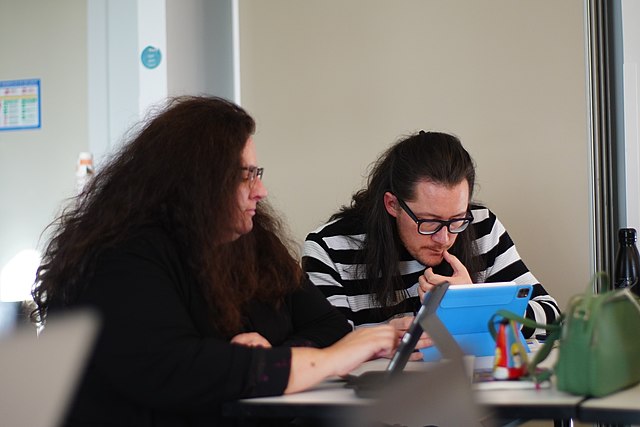 Last November, I had the opportunity thanks to Wikimedia Canada to get a scholarship for the pre-convention (in French) and the Francophone Wiki Convention that took place in Paris from November 17 to 20, 2022. These meetings from several French-speaking countries allowed me to better understand the main workings of the Wikimedia Foundation. I also became familiar with the different chapters that encompass Wiki actions in several countries. Moreover, I had the chance to meet several wikipedians and wikimedians who helped and supported me throughout the Wiki projects at MNBAQ. It was a real pleasure to meet this great community in person!
The pre-convention was an opportunity to learn more about how Wikimedia Canada works through teamwork with participants and colleagues. We targeted a Wiki project that can be applied in the future in Canada. During the two days, we learned how to evolve it into a project management, include partners, worry about funding and outreach. This evolutionary exercise allowed us to understand the steps to be planned and to exchange on the projects of each of the Francophone teams.
The Francophone WikiConvention (in French) is a real marathon of conferences, feedback and workshops. Three possibilities on the schedule at all times. Throughout these two days, I have targeted content related to GLAM projects, new tools to discover as well as feedback that can help me in the Wiki projects underway at MNBAQ.
Many favorites
Many favorites and discoveries throughout the Wiki Convention. Here are some of them.
The presentation of the Report on cultural open content in France (in French) is a current issue between the digitization of collections and the constraints related to their future dissemination.
The conference: Open Culture: Obstacles and opportunities of copyright for cultural institutions meets the concerns of museums who wish to disseminate images of works on display but also works in storage to better document and publicize them.
The presentation entitled: Map Integration Project: using Wikidata data on the website of the Association of Swiss Archivists is inspiring for Quebec and Canada in order to make archives better known. I remember to pursue the integration of Wikidata data from Quebec archives. A nice reuse possible!
Furthermore, I was very eager to hear the conference: Establishing links with Wikidata: the case of the vocabulary lists of the Ministère de la Culture. This conference is totally in line with the concerns of GLAMs who aim at interoperability in the description of their objects, works, etc. The semantic model for cultural heritage CIDOC-CRM was used. 600,000 works, objects, etc. were part of the exploration of this semantic model.
In addition, I also listened to new contributors and their recent feedback. This helps to understand the training that we want to give in a contribution workshop and the pitfalls to avoid. The same goes for workshops on tools like Open Refine and Toolforge. This allowed me to better understand the potential of automating certain tasks and actions and to get started.
In summary, these days of training and exchange allowed me to build relationships with the French-speaking Wiki community. Above all, I was able to go further in terms of knowledge and networking with European and African Wikimedia associations. I came out of this experience fulfilled, better trained and especially motivated to pursue all the Wiki projects at MNBAQ (in French). Thank you to Wikimedia Canada for this enriching experience that came at the right time for our workcamps!
Nathalie Thibault
Wikimedian in residence
Curator of Archives, responsible for the documentary management and digital dissemination of the collections
Collections Department / Musée national des beaux-arts du Québec
Photo credit:
Logo Wikiconvention Francophone.svg, MarcBrouillon and Jean-Philippe WMFr / Wikimedia Commons / CC BY-SA 4.0
WikiConvention francophone 2022, jour 1, par Dyolf77 – DSC01055.jpg, Habib M'henni / Wikimedia Commons / CC BY-SA 4.0